The Rhone Rangers are riding into Boston!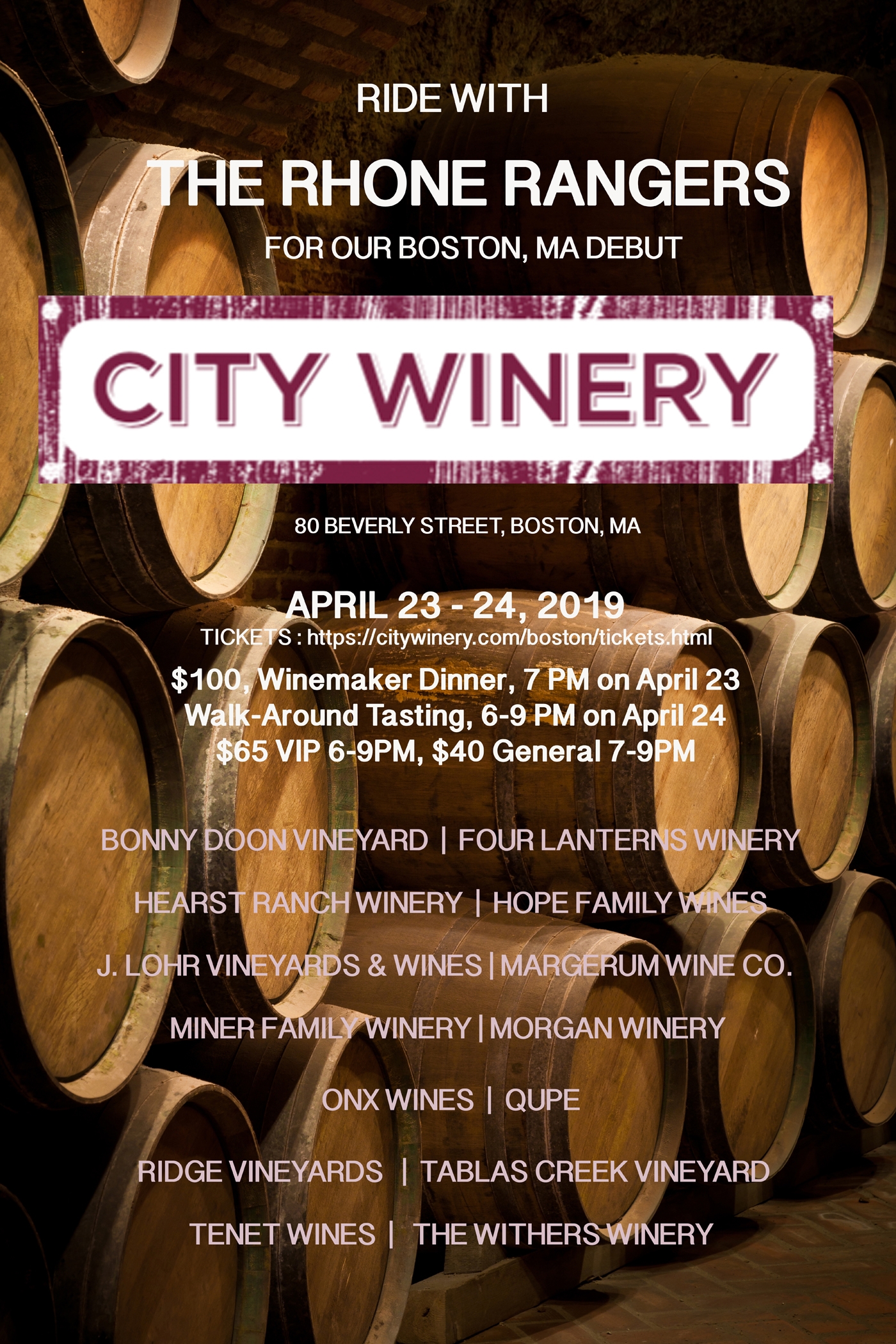 Tuesday, April 23, 2019
Wine Dinner, 7-9pm Enjoy an exclusive five-course dinner prepared by Executive Chef Jason Gorman, with wine pairings from the Rhone Rangers. Delight your senses as you are guided through a tasting, while you experience the nuances of the wines and learn about these American Rhone wine producers. Featured winemakers/proprietors include Stacy Vogel (Miner Family Wines, Napa Valley), Andrew Tow (The Withers Winery, Sonoma Coast & Sierra Foothills CA), Scott Saunders (Hearst Ranch Winery, Paso Robles), Steve Lohr (J. Lohr Vineyards & Wines, Paso Robles), and David Gates (Ridge Vineyards, Sonoma County). Advance reservations are recommended for $100pp, and may be purchased at direct from City Winery – Boston. DINNER RESERVATIONS
Wednesday, April 24, 2019
Trade & Media Seminar, 12 noon - 1:30pm The Rhone Rangers will present a "State of the Rhone Nation" seminar, open to trade and media, which will provide an opportunity to understand the taste profiles of the principal Rhone varieties and will include wines from Tablas Creek Vineyard (Paso Robles), Margerum (Santa Barbara County) Miner Family Winery (Napa Valley), ONX Wines (Paso Robles), Ridge Vineyards (Sonoma), Four Lanterns (Paso Robles) and The Withers Winery (El Dorado). Complimentary to qualified members of the Trade and Media with pre-registration required, includes Trade Tasting, or $45/each Consumers. Limited seating. To RSVP, click here.To RSVP, click here.
Trade Tasting, 1:30-4pm Fourteen wineries will pour more than 50 wines for the wine trade and media. Tickets are complimentary for those who directly influence the purchase of wine including sommeliers, chef-restaurant owners, wine writers, wine retailers, wine wholesalers, distributors and brokers. To RSVP, click here.
Grand Tasting, VIP Admission, 6-7pm Wine lovers can secure early entry to the Grand Tasting by purchasing VIP tickets. More than 60 wines will be available to taste as well as a selection of appetizers. VIP tickets are $65 and are available from City Winery – Boston. TICKETS
Grand Tasting General Admission, 7-9pm Some of the country's best producers of Rhone wines will be in attendance for this two-hour tasting experience. Tickets are available in advance for $40 from City Winery – Boston. Space permitting, tickets may also be available at the door. TICKETS