Grape of the Month
To help you know your Bourboulenc from your Grenache Blanc—and beyond—each month we highlight one of the 22 official Rhone grape varieties.
---
More About Grenache
Grenache, (also known as Grenache Noir, to distinguish it from its white counterpart Grenache Blanc) is the most widely planted grape in the southern Rhône Valley, and the second most widely planted varietal in the world. It is most often blended (with Syrah and Mourvèdre in France and Australia, and with Tempranillo in Rioja), but is probably best known from the wines of Châteauneuf-du-Pape, where it comprises 70% of the appellation's acreage.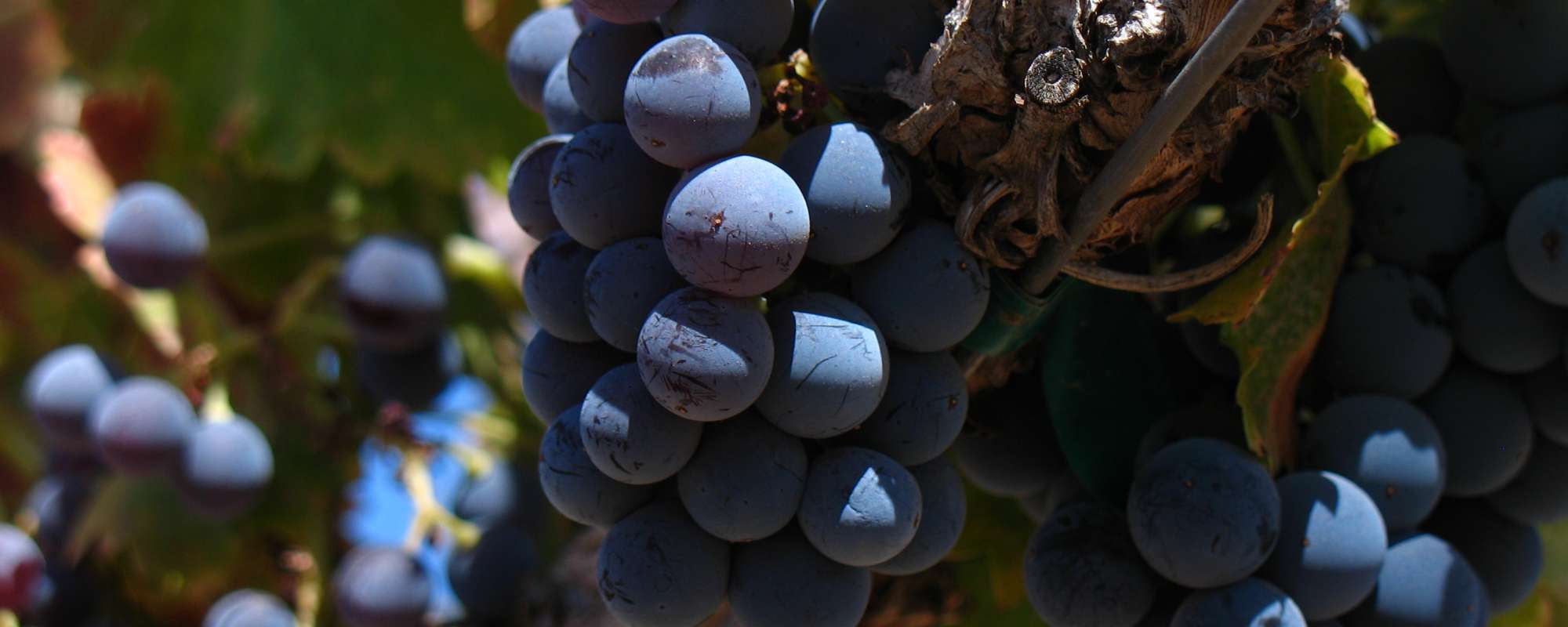 Grenache appears to have originated in Spain, most likely in the northern province of Aragon, and ampelographers believe that Grenache was the foundation of Aragon's excellent vin rouge du pays. From Aragon, it spread throughout the vineyards of Spain and the Mediterranean in conjunction with the reach of the kingdom of Aragon, which at times included Roussillon and Sardinia. By the early 18th century, the varietal had expanded into Languedoc and Provence.

The phylloxera epidemic of the late 19th century indirectly increased European plantings of Grenache. In RIoja, for example, vineyards were replanted not with the native varietals, but with the hardy, easy to graft Grenache. A similar trend occurred in southern France, as the percentage of Grenache plantings after the phylloxera infestation increased significantly, replacing the previously abundant Mourvèdre.
Grenache was brought to California in the 1860s, where its erect carriage, vigor and resistance to drought made it a popular planting choice. It came to occupy second place in vineyard planting after Carignan and was an element in wine producers' branded field blends. Unfortunately, with the decline of branded field blends, the need for Grenache has declined since 1980, and Grenache plantings in California have declined, as the varietal is replaced by the more popular Cabernet Sauvignon and Merlot; currently there are 9,600 acres planted in California. Despite this overall decline in acreage, Grenache has been the most planted of Rhone varieties in high-quality coastal locations, with nearly 1000 acres of new vineyard planted since 1995.
---
Grenache is a vigorous variety with upright shoots that lends itself to "gobelet" or "head training"; it is widely cultivated in this manner in France and in Spain. In California, the varietal can be found head-trained but is typically cultivated in double cordon fashion with six fruiting canes, each with two buds. The varietal's vigor gives it the potential to be a heavy producer, and most producers are obliged to fruit-prune during the growing seasons to keep yields reasonable.
Grenache ripens in the middle of the ripening cycle, among Rhone reds after Syrah but before Counoise and Mourvèdre. At harvest, it is notable for its high acidity even at relatively high sugar levels. In the cellar, Grenache is prone toward oxidation, and many producers avoid small 60-gallon barrels for Grenache in favor of larger-format wood or stainless steel fermentation. Grenache produces wines with high concentrations of fruit, tannin, and acids. Its flavors are most typically currant, cherry, and raisin, and its aromas are of black pepper, menthol, and licorice. It is not particularly deeply colored, and many producers blend Syrah into Grenache to achieve a darker color and a firmer tannin structure. Many Grenaches are heady in alcohol (often 15% or higher), and intensely fruity, yet still with vibrant acidities, and approachable earlier than wines based on the more structured Syrah and Mourvèdre grapes.